SCRATCH MASTER - Mobile dent repair and scratch repair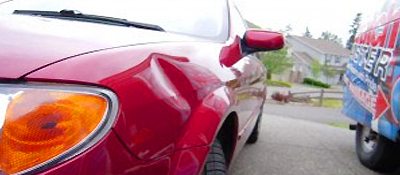 Car Dent Repair
Minor dents and accidents, dings and creases are removed at a fraction of the cost. How might this be? The answer is PDR (Paintless Dent Repair) and we are highly-trained and specialized in the PDR process.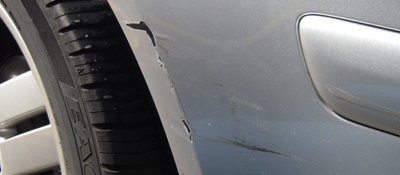 Car Scratch Repair
Paint scratches, key scratches, rock chips, bumper scrapes, nicks, and scuffs can happen anywhere and cost hundreds of dollars to fix. At The Scratch Master we can repair them all and save you time and money.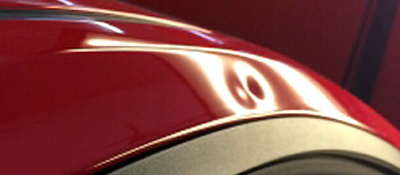 Car Hail Damage Repair
Once a hail storm hits, it's nearly impossible to avoid it. But with The Scratch Master, repairing the hail damage is quick and easy with our hail damage repair process. We can help you with your damage repair claims as well.
Hi, my name is Brian Lewis, owner and operator for Scratch Master™.

I fix your car's minor scratches, dents, dings, chips, rust, bumper scrapes & hail damage.

* Customers tell me that we are "Better than a body shop."
Convenient
Mobile car scratch & car dent repair services at your home or work place. Avoid the hassle of driving around to body shops and waiting in their lobby.

Save Time
Average repair time is 1 to 4 hours, not days or weeks like most repair shops.

Smartest Car Dent Repairs
We specialize in minimally invasive repair technology (MIRT). We believe MIRT is the #1 solution for minor damage since it's "healthier" for your car. It's how we fix minor damage that makes us different.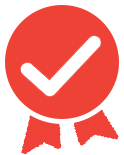 Highest Quality Repair
Key concept for minor dents & scratches: Remember, the paint outside of the damage is called your original "factory perfect" paint finish. Your original paint finish is the very definition of "perfect" and it is superior to a repaint. In fact, a vehicle with original paint retains a higher (monetary & utility) value than a repainted vehicle.
Therefore, a quality repair means minimizing the repair area. Rather than repainting entire panels to fix scratches & dents, Scratch Master™ specializes in keeping the repair area extremely small, while leaving the rest of the panel untouched. This preserves your original "factory perfect" paint & protects the value of your car. We utilize state of the art restoration systems and the most advanced methods in the automotive industry. With proven expertise & a 18 year track record, we can obtain showroom quality results with guaranteed durability. Ask about our lifetime warranty.

Value For Your Money
Often save money compared to conventional body shop methods! How? Four reasons why:
We trim the fat by keeping repair area extremely small.
No Carfax reported in most cases. Avoid diminished value & reduced buyer confidence.
No insurance rate increase when we help you avoid a claim.
Our optimal repairs help prevent many potential problems and future costs that can result from a repaint. (See **fair warnings below).
Let Scratch Master™ make your car look & feel like new again! Give us a call now at 720-242-9595. Or toll free at 1-888-SCRATCH (727-2824). You may also send us an email.
Featured In:



A+ Rating:

The Fine Print - full disclosure
Does Scratch Master™ fix all damage?

No, Our on-site process has limitations that depend on the severity of the damage. We repair only minor (sometimes medium) damage and provide options that range from "100% perfect", to "major improvement", to "better than it was". Upon inspection, we will tell you the expected result and you can decide. If your damage is too severe, there is no substitute for a conventional body shop or collision center.
*** Fair Warning ***
Keep reading to learn how to avoid:
1. Wasting time & money now.
2. Future costs.
3. Other potential problems.
Key Question: What's the big deal about preserving my original "factory perfect" finish when performing a repair?

Super important! Your original paint finish applied in the factory is the very definition & essence of "perfect". It is ideal. It was applied in an ideal process, at an ideal thickness, and baked at very high ideal temperatures for maximum durability, resiliency, & longevity. The consistency, texture & quality cannot be precisely duplicated even in the finest body shops. So when an entire panel gets repainted, even if it "looks" perfect, it's "not quite the same". There is only one "original". So, Rule #1 is: DO NO HARM!
BEWARE! When repairing minor dents & scratches, don't corrupt your facory finish by painting entire panels in cases where the repair area can be kept extremely small! Scratch Master protects & preserve the "already perfect" sections of your original paint by limiting the size of the repair area to be as small as possible! Preserving your original paint, rather than corrupting it, will fetch you a higher resale value and also helps to avoid potential problems :
Problems such as:
Reduced monetary value. With few exceptions, if your car has been repainted, it is worth less money. Period. You can confirm this on Kelley Bluebook or any other auto appraisal source.
Your repaint gets reported to Carfax. This "red flagging" often happens unaware through various sources. When you decide to sell, the potential buyer's confidence is shaken as they question the extent of the accident. Their demand for a price reduction is in order.
Your car is potentially more vulnerable to new problems such as: risking a color mismatch, checking, cracking, crow's feet,too much paint thickness thus the panel becomes more chip prone. Ever see a hood or front bumper with a ton of chips on it? I can almost guarantee it's been repainted.
Potentially more vulnerable to future costs of stripping (an invasive process). For example: If you paint an entire panel to fix a small scratch, keep in mind the idea that you might have to paint that same panel again on a future repair. That panel can only handle so much film thickness before it needs to be stripped. Otherwise it can have problems. Limiting film thickness is wise.
* Is Scratch Master™ really better than a body shop?

Both yes & no. There is no blanket "right" answer. It's an apple to orange comparison that depends on your unique situation and the severity of your damage.
Car Scratch & Car Dent Repair Comparison
Conventional auto body shop VS Scratch Master™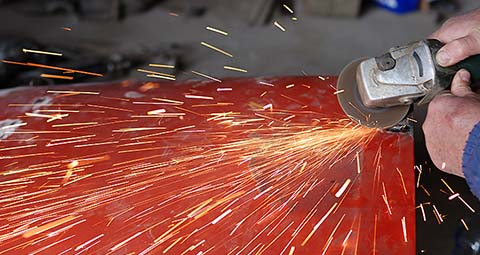 Conventional Auto Body (CAB)
What is a conventional auto body (CAB) shop?
A (CAB) shop is very different from Scratch Master™. A (CAB) shop specializes in wrecks, "paint the whole panel" repairs, large damage, panel replacements & collision repair. CAB shops are crucial to the automotive industry and our communities. I truly honor the CAB expertise and they are hands down the better choice when those services are necessary as a last resort. BUT, when it comes to minor dent, ding, & scratch repairs, the CAB shop process can be a gross waste of time & money. And, they often corrupt your factory finish needlessly. Sometimes it's like getting leg surgery when all you have is a scraped knee.
Scratch Master™ however, specializes in Minimally Invasive Repair Technology (MIRT). This is the art & science of keeping repairs extremely small. It's a completely different skillset and mindset.
The conventional auto body (CAB) shop mindset:
(CAB) shops are not specialists in Minimally Invasive Repair Technology (MIRT) like Scratch Master™ is. Perhaps they dabble, but it's not their bread & butter. Because of this, (CAB) shops:
Are often ignorant to what is possible with (MIRT) especially at times when a (MIRT) repair is not super easy.
Tend to "see" repairs through a CAB lens to keep their non-(MIRT) techs busy.
Misdiagnose minor damage all the time. Sometimes through honest ignorance and sometimes knowingly. because they can.
Here's a typical 5 step body shop process if you decide to go that route:
For your initial estimate you'll spend precious time driving around town visiting body shops and waiting in their lobby.
You will then spend time scheduling two rides. One ride home after you drop car off. Another ride back to shop when car is complete.
At shop you will entrust your car to 3-5 different employees, rather than just one technician.
Your car will be there for days (sometimes weeks) being moved around to accommodate other jobs. In their enclosed facility, bondo dust and paint fumes are par for the course.
To fix your dent or scratches, body shops specialize in what is called "Conventional Repair". Conventional repair is a process of last resort. It includes replacing panels (hopefully with OEM parts), or sanding the dent / scratch, applying "filler", sanding it smooth, spraying primer, then repainting the entire panel with a finish that's "not quite the same" as the original finish. Don't forget the blend! Even a quality auto body shop often has to re-paint 2-4 (already perfect) panels to camouflage any subtle color mis-match. And the cost usually starts around $500 to $700 and can often exceeds $2,000 - $4000 depending on the damage. Don't forget the cost of a rental car, a potential insurance rate increase, and a Carfax report.
Scratch Master™
What is Scratch Master™?
Scratch Master™ is an alternative, a tool of first resort that conveniently repairs at your home or work. We specialize in helping customers avoid conventional body shop repairs when it makes sense for them. Our mission is "Preserve maximum "factory perfect" finish wherever possible and sensible." For minor dents & scratches, remember these top five things.
Fall in love with your original "factory perfect" finish. "Preserving" is better than "repainting".
Insist, that conventional "paint the whole panel" repairs ought to be avoided when undamaged areas can be kept in or near it's original "factory perfect" state.
Hire someone who specializes in avoiding conventional repair, rather than someone who gets paid to perform conventional repair. Smart decision!
Don't waste time & money on unnecessary operations!
"Quality is never an accident; it is always the result of high intention, sincere effort, intelligent direction and skillful execution; it represents the wise choice of many alternatives." ~ W.A. Foster
Car Scratch Repair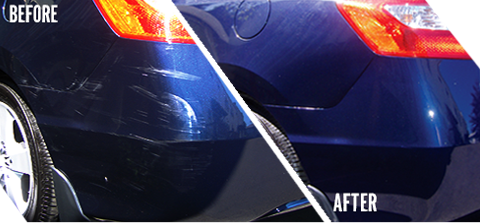 Car Dent Repair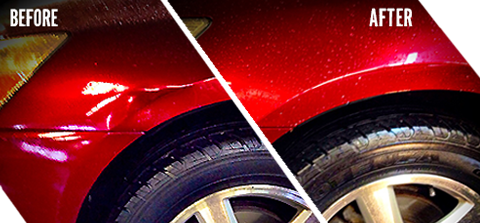 Let Scratch Master™ make your car look & feel like new again! Give us a call now at 720-242-9595. Or toll free at 1-888-SCRATCH (727-2824). You may also send us an email.
Thanks for reading. I hope to talk to you soon! Brian Lewis | Scratch Master™